St. Virgil: Rooms and Apartments with views of the countryside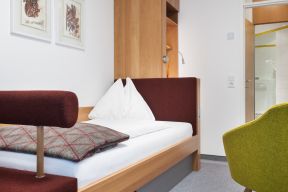 single room
double room
The majority of our single rooms and apartments are located in St. Virgil.
The rooms are situated in the first and second floors, facing the east- or westside.
All of our rooms offer views of the countryside and feature a small balcony. All rooms are equipped with broadband internet via WiFi.
The modern rooms were designed by the architect Wilhelm Holzbauer and are characterized by their very smart floor plans. Many of the bathrooms have been renovated over the years.