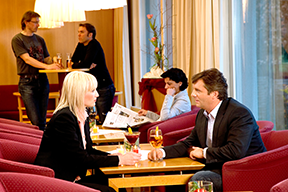 a top quality public cafe
The park café in St. Virgil is open to the public and available to all of our guests and event participants. Visible from the park terrace as well as from inside the cafe is a wonderful alpine panorama, framed by beautiful countryside – the ideal location to unwind.
"Fair trade" organic coffee specialties, Zotter chocolates, house-made cakes, the unmistakable Virgil ball and a modest snack menu await you daily from 8:00 A.M.
The wine and beer selection is mostly Austrian. Quality and origin are important criteria. Upon request, we offer wine tastings, with accompanying cheeses or antipasti, as well as cocktails and finger food options for relaxing evenings.
---
Virgil makes music – this autumn!
September 2nd, 2017 - Meetin' Moa
3 ladies with witty songs - Guitar, flute & accordion
October 7th, 2017 - Simone Pergmann Trio
Simone Pergmann is a wonderful artist and one of the great interpreters & songwriters of the Yiddish music tradition.
November 11th, 2017 - LeRoXa
3 musicians who will treat us with their humorous and critical texts (in Salzburger dialect) at the beginning of carnival.
Psst! Tell your friends