St. Rupert: Your stay in our guesthouse
Single room St. Rupert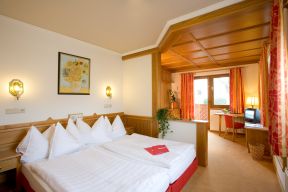 Double room St. Rupert
St. Rupert is located 50 m from St. Virgil's main entrance, right across the street.
The rooms (specifically the double rooms) feature a small living room with wooden ceilings. The views from the balconies are of the Gaisberg (a very quiet neighborhood) or of the Untersberg. Most of the rooms feature a balcony.
There is also a large terrace on the first floor for sun bathers. Breakfast and other meals await you in St. Virgil.