"Gastronomically" high standards
Great food is a strong argument for choosing an event location. In St. Virgil Salzburg, our cuisine and wine selection complement each other in authentic Austrian tradition. For a long time now, St. Virgil Salzburg has maintained close cooperation with organic farms and local and regional businesses. With great conviction, we promote our "Fair Trade" products which are manufactured in a safe and sustainable Fashion.
---
Standard Organic Break
"Fair Trade" coffee
Organic teas
Regional, organic fruit juices
Tap water, mineral water, regional & seasonal fruits
€ 6,80 per person – or included in package
These may be further customized upon request!
---
Lunch or dinner in our restaurant
For lunch, we offer a colorful, warm buffet with soup, salad, various entrees (including at least one vegetarian dish) with several side dishes and desserts.

€ 14,70 per person – or included in package
For dinner, we offer a warm buffet or a two-course menu with salad and desserts

€ 11,50 per person – or included in package
---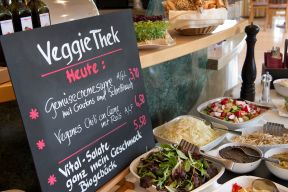 Veggie Bar in the park café - from 24th of August!
Open daily (excluding Sunday) from 12:00 - 13:30

Crème soup
Vegetarian stew
Raw vegetable salad