St. Virgil and St. Rupert - hospitality in two houses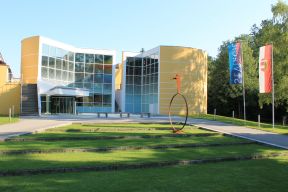 St. Virgil – rooms and apartments with views of the countryside
The majority of our single rooms and apartments are located in St. Virgil.
The rooms are situated in the first and second floors, facing the east- or westside.
All of our rooms offer views of the countryside and feature a small balcony. All rooms are equipped with broadband internet via WiFi.
The modern rooms were designed by the architect Wilhelm Holzbauer and are characterized by their very smart floor plans. Many of the bathrooms have been renovated over the years.
St. Rupert – our guest house in country house style
St. Rupert is located 50 m from St. Virgil's main entrance, right across the street. The rooms (specifically the double rooms) feature a small living room with wooden ceilings. The views from the balconies are of the Gaisberg (a very quiet neighborhood) or of the Untersberg. There is also a large terrace on the first floor for sun bathers. Our culinary services are available to you in St. Virgil.