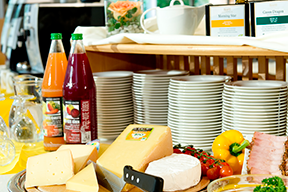 Regional cheese specialities
A great start to your day!
The "Salzburger" organic breakfast - regional und certified
This seal of quality represents Virgil values. We choose Salzburger products with short transport distances, such as juices from the farmers in the lake district, "Fair trade" organic coffee and teas, as well as locally produced cheese, milk and eggs.
100 % organic bread is common sense. The breakfast crew at St. Virgil puts a special emphasis on your"day's first slice of bread". Enjoy the high quality and start your day off right.
100 % organic bread on the breakfast table
organic breakfast for SALZBURG'S "Early birds"
If mornings are your time of day, then join us with friends or family for our "Salzburger" organic breakfast. No overnight stay required, bookable daily, ideal meeting point before an event or your workday. Children are also warmly welcome!
Weekdays: from 7 a.m. to 9:30 a.m. Saturdays and Sundays to 10 a.m.
We ask for a reservation under the number: +43 (0)662 65 901-0